Schwartz and Associates is a landscape architecture, planning, and project management firm. Our practice encompasses an extensive range of project types from large-scale residential estates and small-detail commercial projects to the design and project management of unique gardens across the Bay Area.
We believe that landscape architecture, at any scale, presents the opportunity to integrate environmental sensitivity and quality design with the anticipated users' enjoyment. We work closely with our clients from design through construction administration in order to create unique, quality, cost effective and sustainable landscape solutions.
FOUNDING PARTNERS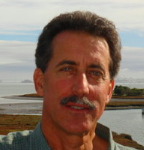 David A. Schwartz has over thirty years of design, planning and landscape construction experience. David earned a Master of Landscape Architecture from the University of California at Berkeley and a Bachelor of Science from Humboldt State University. His environmental sciences background is a key in the development of site specific landscapes that involve slope and soil stabilization, habitat restoration, and New Vegetative Management. As a California native, David draws upon his knowledge of the native surroundings for design inspiration and use of water conserving plants. To David, each project and client is unique. By combining these abilities, his strength lies in his ability to focus on developing spaces that are artistic, suited to the client's needs, and responsive to the surrounding environment.

Isis Spinola-Schwartz has thirty years of experience in the profession of Landscape Architecture and Planning. Isis received a Bachelor's of Landscape Architecture from Louisiana State University, with additional course work in architectural studies from Tulane University. While employed at such noted firms as The Architects Collaborative (TAC) and SWA Group, she developed a solid depth of experience in campus and land planning, as well as commercial landscape architectural design. Isis is passionate about Sustainability and holds an MBA in Sustainable Enterprise from Dominican University of California and is a certified LEED Green Associate. At Schwartz & Associates, Isis's focus is on applying Sustainability principles and USGBC guidelines to all projects she develops, and to continue to support the company's design-build division interactions with its land use planning and landscape architecture projects.